Haringey tenants are fighting demolition of council estates across Tottenham. They are meeting 6.30pm Thur 9 Apr @ Cafe Life, North London Community House, 22 Moorefield Road N17 6PY - all welcome.
Their Response to Haringey Council's 'Local Plan' highlights how proposed demolition will drive out existing residents:
The ability of local people to afford the new homes being built, especially in the east of the borough, is dependent on them accessing jobs and also increasing their incomes to a sufficient level to afford the new homes on offer as a result.
(Equalities Impact Assessment on Haringey s housing policies, Cabinet 17/03/15 p62)
Tenants say: 'The Council's housing policies amount to the social cleansing of Tottenham's existing residents.' They are calling on election candidates to support the campaign against the demolition.

Download for more.
08 Apr 2015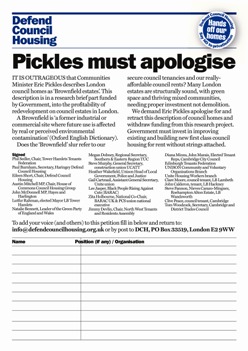 Elected London Assembly members says Mayor should 'consider how the GLA can deliver a programme of new social rented homes'. Labour, Green and Lib Dem Assembly members voted 15 -3 on 11 March, to 'regret' loss of homes through 'Affordable' up to 80 market rents, 'sales through the revived right to buy and demolitions.'
Tenants and campaigners are demanding local Labour, Lib Dem and Green Party councillors halt the demolition of 70+ council and housing association estates, in line with Assembly policy.
full detail here
20 Mar 2015
Meetings across the South East will propose ending building more 'social' homes for rent and ending Right to Buy. Keith Taylor Green Party MEP for South East England, is speaking alongside housing campaigners including DCH, launching his report: Everyone knows we have a housing crisis: let's do something about it at meetings in Oxford, Brighton, Canterbury, Winchester, Reading and Guildford. See details here.

Download for more.
19 Mar 2015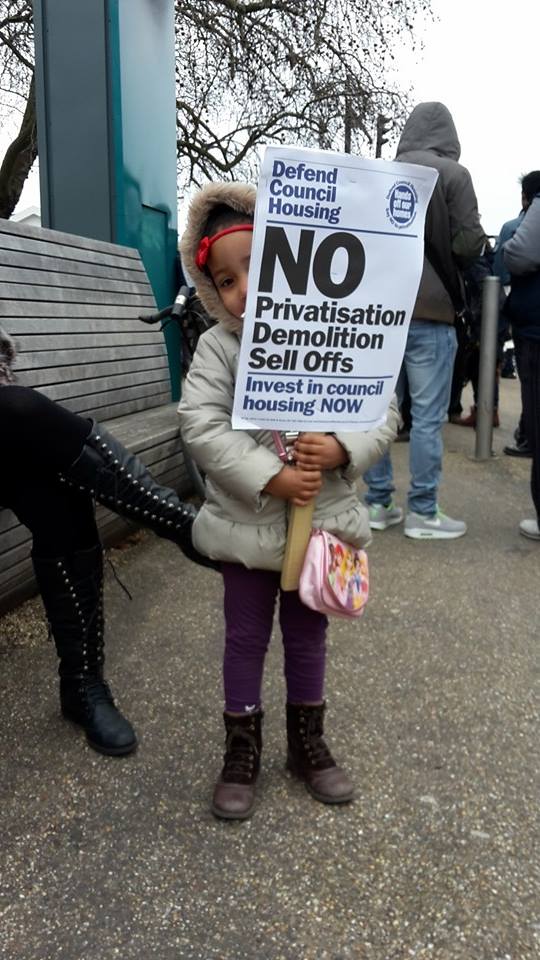 Marchers got a warm welcome yesterday, demanding Aylesbury estate homes are done up, not knocked dow MORE >>

15 Mar 2015

Angry tenants and housing campaigners are protesting in Tottenham, Wed 11 March 5-7pm at 163 Park La MORE >>

10 Mar 2015

The Labour-led council in Hammersmith and Fulham, west London, is considering privatisation of all 1 MORE >>

17 Feb 2015

A new dynamic housing movement is bringing together council and private tenants, trade unions and c MORE >>

01 Feb 2015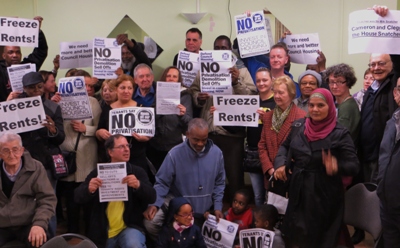 Haringey tenants are leading a fight against demolition of council homes and businesses.
On Sat MORE >>

03 Dec 2014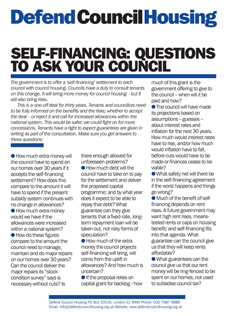 The long-delayed detailed proposals put some new money on the table BUT MORE >>

28 Mar 2010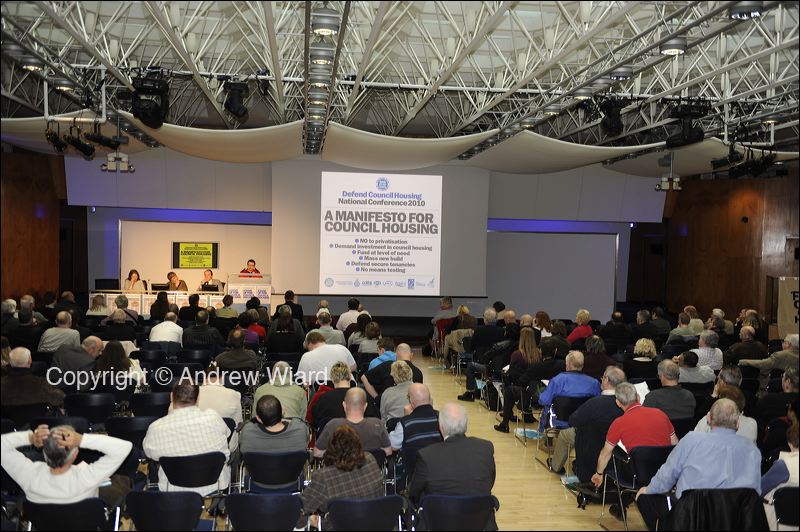 250 delegates from 59 areas at the biggest and broadest DCH conference so far MORE >>

19 Mar 2010

Tenants on the Ferguslie estate in Renfrewshire, Scotland, have voted NO to privatisation. MORE >>

17 Nov 2009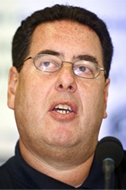 The first national meeting since the sad death of Alan Walter agreed to step up the work of DCH MORE >>

09 May 2009

DCH welcomes Brown's commitment to council housing MORE >>

30 Jan 2009