The Parliamentary Campaign for Council Housing is delighted to invite council tenants from across the country to meet MPs and give their views on the current issues and priorities for council housing.
The evidence session will take place on 9th July 6-8pm at the House of Commons. It will include a short slot for each delegation to say what they see as the main concerns in relation to council housing locally and nationally.
This can be backed up by written evidence if people want to go into more detail. We hope this will be written up into a report, and will help to shape the argument for more direct investment in existing and new council housing.

Tenant groups from Leeds, Edinburgh, Carlisle, Swindon, Stroud, Cambridge and Harlow are among those so far saying they will take part. Joint delegations along with local trade unions and councillors are welcome.

Please email jamie.sweeney@parliament.uk if you would like to attend.
20 Jun 2018
DCH joined other council and housing association tenants at a meeting with Housing Minister Dominic Raab on 11 April 2018.
This was a 'round table' meeting organised by Grenfell survivors, to put our views to the housing minister in advance of the Green Paper on social housing.
Tenants spoke forcefully about security, public accountability, rent issues, and opposition to demolitions. Dominic Raab asked whether there is a stigma against social tenants because of our 'protected status'. He also said that one reason for estate redevelopment was the need to create more mixed communities. Paul Burnham of Haringey DCH said that Tottenham, which is set for mass demolitions, is already a mixed community, where every team playing in the World Cup has measurable local support.
It is a mixed community with a place for the poor and people with lower incomes, and council housing helps to provide social integration. There is no stigma attached to our secure tenancies or our rent regime, which we are proud of and want to protect.
The kind of new housing being built does not have a place for us. For example, a planned development at Wood Green in Haringey, has no social rent housing but only a few much more expensive 'Affordable rent' tenancies, and a poor door for affordable residents; the developer's viability consultant wrote that he wanted the Affordable rent tenancies restricted to households with at least £40,000 income a year.
The conclusion is that we do not want estate demolitions, and we need the restoration of government development grant for new council housing.
25 Apr 2018
The G15 housing associations, landlord to 550,000 homes, 21 percent of all HA homes, started only 3 per cent (c244) homes for social rent in the first 9 months of 2017-18. They are contributing to a worsening housing crisis, not helping. See G15 figures
01 Apr 2018

Labour's shadow housing minister is calling for views and evidence to inform future policy on counci MORE >>

03 Jan 2018

Defend Council Housing (DCH) would welcome delivery of Theresa Mays offer to take personal responsi MORE >>

04 Oct 2017

Ken Loach, Steve Turner Unite, Justice4Grenfell, Emma Dent Coad MP, Rochdale Save Seven Sisters camp MORE >>

23 Sep 2017

Government's housing failures are under fire from the National Audit Office (NAO) and the Chartered MORE >>

23 Sep 2017

Tenants voted 90 per cent NO in a vote on transfer of their homes to a housing association.
The MORE >>

03 Sep 2017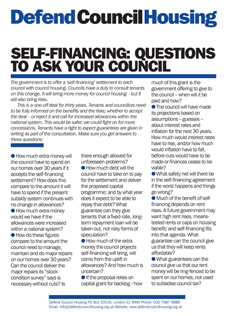 The long-delayed detailed proposals put some new money on the table BUT MORE >>

28 Mar 2010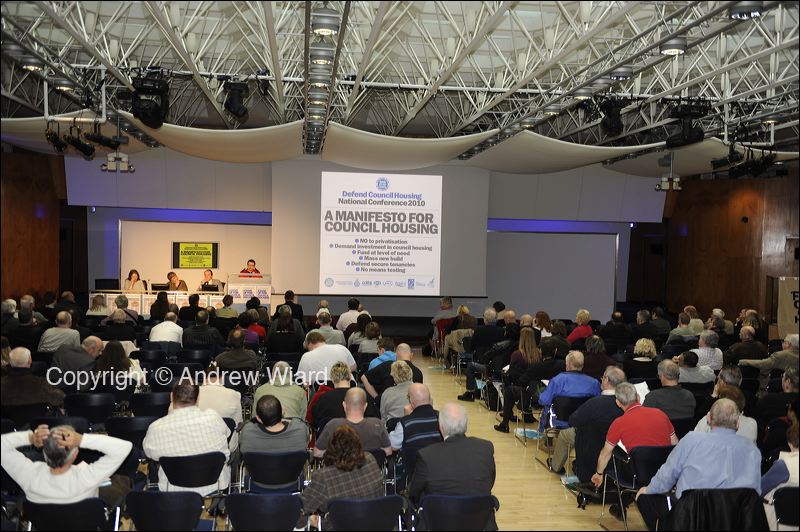 250 delegates from 59 areas at the biggest and broadest DCH conference so far MORE >>

19 Mar 2010

Tenants on the Ferguslie estate in Renfrewshire, Scotland, have voted NO to privatisation. MORE >>

17 Nov 2009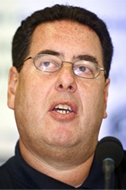 The first national meeting since the sad death of Alan Walter agreed to step up the work of DCH MORE >>

09 May 2009

DCH welcomes Brown's commitment to council housing MORE >>

30 Jan 2009