Feedback
Five of us from Cambridge found it a useful and instructive day. It's always good to meet tenants from other areas and exchange views and experiences.


I attended the workshop on the Review of Housing Finance introduced by Steve Hilditch and Steve Partridge. I thoroughly enjoyed it and feel that I learned quite a lot.
Terry Sweeney
I attended along with eight others from Milton Keynes. It was very good. I mentioned I was concerned about a document the council has produced where it mentions Local Housing Companies. I am afraid I am not very knowledgeable about these things - are there any concerns? Does it mean an ALMO, what does it mean? At the next public meeting of my RA I shall explain what the DCH is and ask if we can affiliate.
Margaret Burke, Chair, Bradville Residents Association, Milton Keynes
Congratulations from Winchester Tenants, the Conference may have been produced on a shoe string, but it was up there with the best. The information on offer was great the speakers spoke with passion, and conviction. The workshops provided valuable information and the networking first class. Our thanks to all concerned. Alan Rickman, Beryl White, Janet Berry, Winchester Tenants.
Tenants from across England attended a very lively workshop to discuss the present "Climate "for grass roots groups.


Unless truly Independent, tenants' groups are meaningless. Unless truly Independent any NTV will also be meaningless. That was the message sent by tenants from across the country in London earlier today. I thoroughly enjoyed today's conference. Well worth the early start and long day.
Jimmy Devlin, chair Merseyside Residents Network
I thought I knew a lot about the politics of Council Housing, but meeting campaigners from all over the country put the whole thing in perspective and encouraged me to get back to the grindstone. I was lucky enough to chair a group session on ALMOs. Again, some very knowledgeable, dedicated and street-wise people made me feel that Indeed We Can Win!
Phil Sedler Tower Hamlets Against Transfer
The 'stop privatisation' workshop stressed the importance of going straight on the offensive immediately privatisation is threatened, with whatever means of campaigning available - such as public meetings, leaflets, loudspeaker vans and using the local media. Tenants should be made aware of all the relevant arguments about security, rent levels and accountability.
John Marais, Cambridge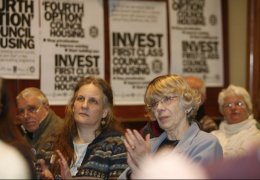 196 council tenants, councillors and trade union delegates from at least 51 local authorities joined housing professionals, academics and MPs attending the DCH national conference on 25 November 2008, at the University of London Union (read programme).


If you attended please let us know what you thought of the event...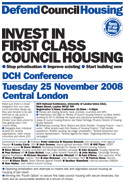 Contributors included: Professor Peter Ambrose ; Weyman Bennett, joint secretary, Unite Against Fascism ; Lesley Carty, DCH ; Frank Dobson MP ; Jack Dromey, deputy general secretary UNITE ; Wilf Flynn, UCATT executive council ; Steve Hilditch, facilitating workshops for Review of Council Housing Finance ; Dave Gibson, Moonlight Robbery campaign ; John Grayson, housing researcher ; Luke Henderson, Edinburgh UNISON ; Paul Holmes MP ; Linda McNeil, chair, Leeds Tenants Federation ; John Marias, Cambridge Tenants Against Privatisation ; Austin Mitchell MP ; Paul O'Brien, chief executive, APSE ; Steve Partridge, director, HQN ; Alan Rickman, chair, Winchester TACT ; Eileen Short, Tower Hamlets Against Transfer ; Heather Wakefield, national secretary UNISON ; Alan Walter, chair Defend Council Housing.


Michael Meacher MP, Clive Betts MP and Adam Lent, TUC Head of Economic and Social Affairs and Pat Rowe, Taunton Deane tenants were unfortunately unable to attend and sent apologies.
Workshops 1. Stop privatisation: A moratorium, dealing with 'stock options appraisals', 'fair and balanced' debate, the case against privatisation and the post-transfer experience; 2. Improve & maintain existing council homes: How housing finance works, the options, risks and benefits facing the government's 'Review of Council Housing Finance' and what we want; 3. Start building new: Investment in a new generation of first class council housing makes sense, defining 'affordability', mixed communities and 'tenure of choice'; 4. Future for ALMOs: Options for tenants: revert back, stay the same or privatisation via stock transfer or morphing into public/private partnerships; 5. Tenants movement and organising today: History of tenants organisation and organising effectively today to defend our secure tenancies, low rents and hold our landlords to account; 6. Unite against the Nazis: What we can do to stop the Nazis undermining tenants' common interests and exploiting housing need to spread their politics of hate and division.

See also reports of DCH Conferences in


2000


2002


2003


2004


2006


2007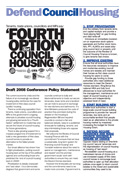 Conference Papers



Programme



Policy statement



DCH Submission to Review of Council Housing Finance



"Defending Principles"



"Credit Crunch"



"Cometh the hour, cometh the housing drive"



Case Against Transfer



ALMOs and Local Housing Companies



Independent Tenants Movement

Conference slides


Prof. Peter Ambrose slides



Steve Hilditch, Review of Council Housing Finance Introduction & Overview



Steve Partridge, Review of Council Housing Finance 'National or Local' debate

Conference Audio tapes
[available soon]
Areas represented
Ashford
Barnet
Barnsley
Bassetlaw
Blaenau Gwent
Bolsover
Brighton
Bristol
Bromley
Cambridge
Camden
Canterbury
Carrick
Cheltenham
City of London
Derbyshire
Dorset
Dover
Edinburgh
Gloucestershire
Guildford
Hackney
Hammersmith & Fulham
Haringey
Harlow
Hillingdon
Horsham
Islington
Kensington & Chelsea
Kingston
Lambeth
Leeds
Lewisham
Liverpool
Loughborough
Macclesfield
Medway
Milton Keynes
Newcastle
Sheffield
Southampton
Southwark
St Helens
Stockport
Swindon
Tower Hamlets
Tandridge
Waverley
Westminster
Winchester
Wycombe