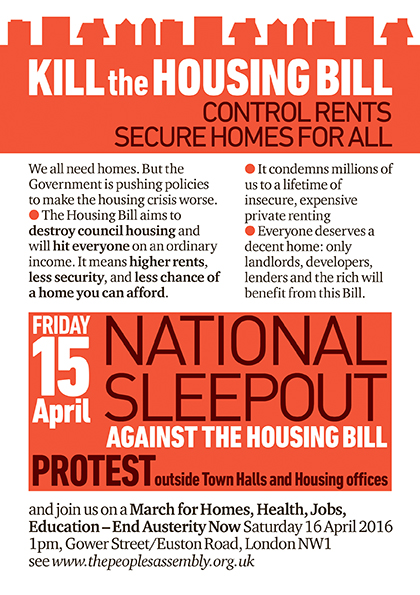 Housing Bill protests will highlight how the Bill threatens more homeless people, while many are already without homes. March with the Homeless in London 6pm from Downing Street details here, then join local sleepout protests:

Start at 8pm 15 April unless otherwise indicated:
Camden Town Hall Judd St WC1H 9JE - Monday 11th 6-7pm
Hackney vigil 7pm Town Hall Mare St E8 1EA Facebook: Kill the Housing Bill Hackney Vigil
Hammersmith Town Hall King St W6 9JU Contact Graham 0750 724 0012
Harlow St Mary-at Latton Church CM20 2JP Facebook: Kill the Housing Bill Harlow
Horsham 10.30pm Council offices North St
Islington Town Hall Upper St N1 2UD
Lambeth Olive Morris House, 18 Brixton Hill, SW2 1RD
Leeds homeless protest 4pm Town Hall LS1 3AD - see Facebook event
Southwark 9pm Town Hall Tooley St SE1P 5LX
Tower Hamlets Housing office, Albert Jacob House 62 Roman Rd E2 Facebook: Tower Hamlets Sleepout against the Housing Bill


Hold a protest near you - see leaflet here or contact killthehousingbill@gmail.com or info@defendcouncilhousing.org.uk.


Download for more.