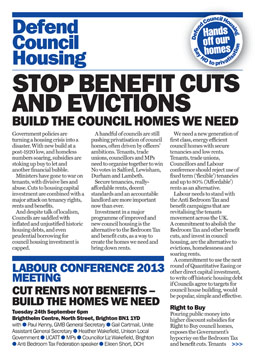 DCH and anti bedroom tax campaigners will be lobbying Labour in Brighton next week to demand action.
Tenants, trade unions, councillors and MPs are calling for a commitment to scrap the Bedroom Tax, and invest in a massive new programme of council house building and improvements.
Union leaders, MPs, a Brighton councillor and Anti Bedroom Tax campaigners are among speakers at a DCH meeting on Tue 24th September 6pm in the Brighthelm Centre, North St BN1 1YD.


Download for more.