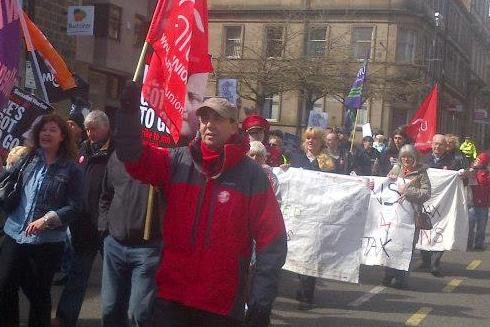 Anti-Bedroom Tax campaigners and tenant organisations are linking up with trade unions, MPs and campaigners to stop unjust benefit cuts and back the Benefit Justice Summit 11 May
. In a joint letter, Eileen Short of Defend Council Housing, anti bedroom tax campaigners Maria Brabiner (Salford), Pat Millership (Wirral) and Alan Wylie (Scotland) and Welsh Tenants, join trade union leaders and MPs to condemn benefit cuts which mean 'children are going hungry, torn out of their home, school and community, while the rich get a tax cut'.
They back Councils acting to stop evictions, grass roots campaigns and trade unionists taking action to make 'the Bedroom Tax unworkable and preventing evictions', and back the Benefit Justice Summit2 on Saturday 11 May 11am in Central Hall Westminster.


Download for more.