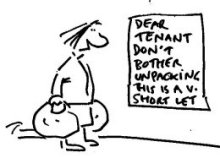 Cuts announced in the Comprehensive Spending Review are not "fair" - this is an assault on tenants rights that will drive up arrears, evictions, poverty and homelessness.
The government proposes to give both Council and RSL landlords freedom to create some new time-limited tenancies - though only RSLs will be allowed to charge 80 percent of market rents.
They also propose reform of the Housing Revenue Account will go ahead, but still no figures to say whether proposals will be viable. The cuts are bad news.
Download for more.