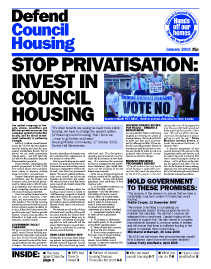 Eight pages make the case against transfer and for direct investment; analyse the government's new proposals; and explain why we need new first-class, affordable, council housing with secure tenancies, not more public-private partnerships.
A number of councils, including some with ALMOs, are shamefully still trying to privatise their homes. We need to unite to fight this threat and achieve the promised sustainable future.
Distribute to tenants, trade unionists and councillors (£20 per 100 / £120 per 1000 copies).
Download for more.